Dental Implants – Oakton, VA
Rebuild a Beautiful, Functional Smile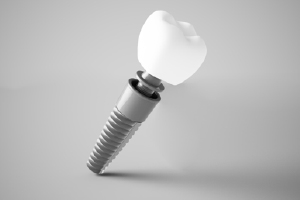 Traditional tooth replacement methods restore only those parts visible when patients smile. Although effective, without the underlying root structure, patients may still experience adverse oral health effects related to tooth loss, including diminished jawbone density and gum tissue volume. Dental implants in Oakton restore the entire tooth, both the roots and the crown. If you have lost one or more teeth, contact Oakton Dentistry by Design to schedule your consultation for dental implants today.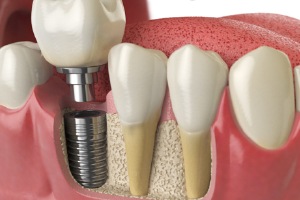 Benefits of Dental Implants
Replacing both the root and crown of the tooth allows you to enjoy various advantages that are not possible with conventional treatments, including:
Over a 95% 10-year success rate.
Looks and feels natural.
Restores 70% of your biting force.
Preserves your jawbone's density.
Stops dental drift.
Improves oral health.
Protects your facial structures.
Long-term affordable solution.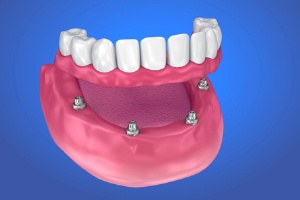 Indications of Dental Implants
Implant-retained tooth replacement occurs in two phases: placement and restoration. A surgical procedure places one or more dental implant posts below your gumline into your jawbone. Over the course of 3 to 6 months, the supportive alveolar bone tissue and gums fuse with the implant post, holding it in place.
Once the dental implant is placed and fused with the jawbone, patients return to our office to have a restoration placed. We can replace any number of missing teeth with dental implants. Depending on how many teeth you are treating, the materials needed vary slightly.
Single Missing Tooth
A single tooth is replaced using an implant post, an abutment, and a crown.
Multiple Missing Teeth
Two missing teeth are replaced using a bridge anchored to your jawbone using a single implant post. If you are missing 3 to 4 teeth, your implant dentist in Oakton will suggest two implant posts. This removes the need for a partial denture clasping onto your natural teeth.
Missing All Teeth
Like a traditional full denture, the implant-retained varieties are used to restore smiles following extensive tooth loss. An average of 4 to 6 implant posts secures the denture to your jawbone to resolve the need for suction or an adhesive.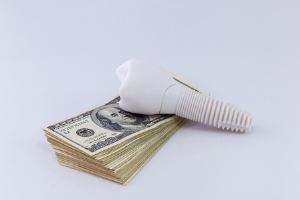 Cost of Dental Implants
Dental implants cost more upfront than traditional treatments; however, they are designed to last for a lifetime. You will never need to worry about having them replaced if you care for them properly. This makes them more cost-effective long-term.
The amount you pay for your new smile is determined by your individual treatment plan, such as if you need additional procedures and how many teeth you are replacing. In some cases, you can use your dental insurance to help lower the cost of the treatment. Although it will not pay for the entire amount, it may cover certain aspects, such as the anesthesia or restorations. We accept third-party financing with CareCredit to help pay any remaining balance to keep your new smile affordable.
Schedule an Appointment Today!
If you are ready to discover the benefits of dental implants, contact Oakton Dentistry by Design today to schedule your consultation for a complete smile.