Dental Implant-Retained Tooth Replacement in Oakton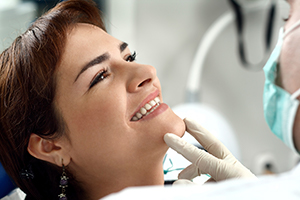 Traditional tooth replacement methods restored only those parts of the tooth visible when patients smile, but without the underlying root structure, patients may still experience adverse oral health effects related to tooth loss including diminished jawbone density and gum tissue volume. Dental implant supported tooth replacement restores the entire tooth, roots and crown. If you have lost one or more teeth, contact Oakton Dentistry by Design to schedule your dental implant consultation today.
Implant Placement
Implant-retained tooth replacement occurs in two phases: placement and restoration. Implant placement is a surgical procedure where one or more dental implant posts are positioned below the gum line. A small incision is made in the gum tissue, the implant is placed, and then a healing cap covers the surgical site. Over the course of three to six months, the supportive alveolar bone tissue and gums fuse with the implant post holding it in place. The implant posts mimic the natural function of tooth roots.
Implant Restorations
Once the dental implant is placed and has time to fuse with the jawbone, patients return to our office to have a dental restoration placed. We are able to replace any number of missing teeth with dental implants. Using a single implant post, we can affix one or two dental crowns to replace a single lost tooth or two consecutive teeth. For three or four consecutive missing teeth, we'll likely recommend the placement of two dental implant posts on either end of the set of replacement teeth to anchor the implant-retained bridge. Patients with more extensive tooth loss will likely need to consider implant-retained dentures.
Implant-Retained Dentures
Like traditional partial and full dentures, the implant-retained varieties are used to restore smiles following extensive tooth loss. Partial dentures are used to replace a number of nonconsecutive missing teeth. Traditional partials are held in place using clasps attached to healthy teeth, but the implant supported variety is anchored by a number of strategically placed implant posts. Full dentures are typically held in place through natural suction between the denture base and the gum line. Implant-retained full dentures are typically supported by four to six dental implant posts.