Dental Implants – Oakton, VA
Rebuild a Beautiful, Functional Smile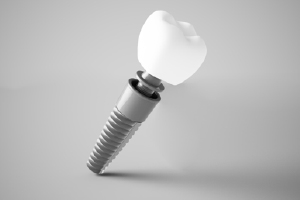 Traditional tooth replacement methods restore only those parts visible when patients smile. Although effective, without the underlying root structure, patients may still experience adverse oral health effects related to tooth loss, including diminished jawbone density and gum tissue volume. Dental implants in Oakton restore the entire tooth, both the roots and the crown. If you have lost one or more teeth, contact Oakton Dentistry by Design to schedule your consultation for dental implants today.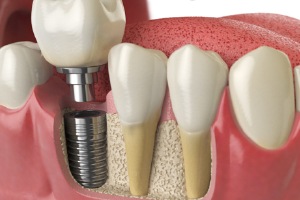 Benefits of Dental Implants
Replacing both the root and crown of the tooth allows you to enjoy various advantages that are not possible with conventional treatments, including:
Over a 95% 10-year success rate.
Looks and feels natural.
Restores 70% of your biting force.
Preserves your jawbone's density.
Stops dental drift.
Improves oral health.
Protects your facial structures.
Long-term affordable solution.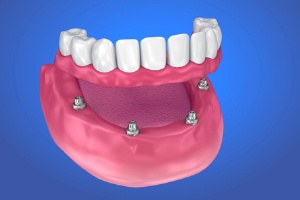 Indications of Dental Implants
Implant-retained tooth replacement occurs in two phases: placement and restoration. A surgical procedure places one or more dental implant posts below your gumline into your jawbone. Over the course of 3 to 6 months, the supportive alveolar bone tissue and gums fuse with the implant post, holding it in place.
Once the dental implant is placed and fused with the jawbone, patients return to our office to have a restoration placed. We can replace any number of missing teeth with dental implants. Depending on how many teeth you are treating, the materials needed vary slightly.
Single Missing Tooth
A single tooth is replaced using an implant post, an abutment, and a crown.
Multiple Missing Teeth
Two missing teeth are replaced using a bridge anchored to your jawbone using a single implant post. If you are missing 3 to 4 teeth, your implant dentist in Oakton will suggest two implant posts. This removes the need for a partial denture clasping onto your natural teeth.
Missing All Teeth
Like a traditional full denture, the implant-retained varieties are used to restore smiles following extensive tooth loss. An average of 4 to 6 implant posts secures the denture to your jawbone to resolve the need for suction or an adhesive.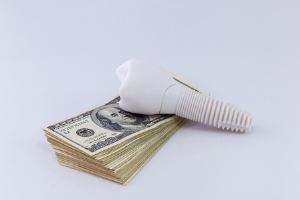 Cost of Dental Implants
Dental implants cost more upfront than traditional treatments; however, they are designed to last for a lifetime. You will never need to worry about having them replaced if you care for them properly. This makes them more cost-effective long-term.
The amount you pay for your new smile is determined by your individual treatment plan, such as if you need additional procedures and how many teeth you are replacing. In some cases, you can use your dental insurance to help lower the cost of the treatment. Although it will not pay for the entire amount, it may cover certain aspects, such as the anesthesia or restorations. We accept third-party financing with CareCredit to help pay any remaining balance to keep your new smile affordable.
Schedule an Appointment Today!
If you are ready to discover the benefits of dental implants, contact Oakton Dentistry by Design today to schedule your consultation for a complete smile.
Dental Implants FAQs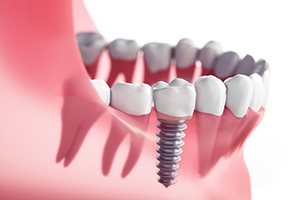 Dental implants are an excellent solution to treat all severities of tooth loss. You will enjoy a nearly perfect replica of your natural teeth. Although you're excited to experience their benefits for yourself, it's normal to have several questions before you're ready to commit to them. We'll take the time to explain the process during your initial consultation. While you wait for your appointment, here are the answers to a few of the most common questions we hear to learn more about the road ahead.
Will I need bone grafting?
Bone grafting and dental implants often go hand-in-hand; however, the additional procedure isn't always necessary. The long-term success of dental implants starts with the right foundation, which is why it's important to have a strong, healthy jawbone. We'll review a CT scan to evaluate your jawbone's density. If we have any concerns about your jaw's ability to support the posts, we'll recommend bone grafting. Although it will add another step to your treatment plan, it's essential for the viability of your new smile.
Can I get dental implants if I have gum disease?
Although it is preventable, gum disease is the leading cause of tooth loss. If you've lost a tooth or two from the infection, you aren't a candidate for dental implants if your gum disease is active. Don't worry, you can become a candidate with periodontal therapy. We'll create the personalized plan you need to stop the infection.
Do dental implants hurt?
It's normal to be concerned about pain because you will need oral surgery to place the post into your jawbone. We use sedation or anesthesia to ensure your comfort, so you won't feel any pain. You will have some tenderness and swelling for a few days while you recover, but you can manage it with over-the-counter pain relievers and cold compresses.
Once you've healed, you should never experience any pain. If discomfort occurs, it can be a sign of dental implant failure. Don't wait to contact our office. We will detect the cause of your pain to protect your investment.
Can dental implants fail?
Dental implants are the most reliable tooth replacement treatment. The risk of implant failure is rare. In fact, it's generally less than 5%. You can ensure your new smile thrives by committing to your oral hygiene. Brush your teeth at least twice a day and floss every night before going to bed. Pay extra attention when cleaning the abutments and posts. Besides caring for your smile at home, don't forget to visit your dentist at least twice a year for a cleaning and checkup.
Can I use my dental insurance?
Many insurance carriers will cover a portion of the treatment after paying your annual deductible. This can lower the cost of certain steps in your plan until you reach your yearly limit. We will work on your behalf with your insurance carrier to file the necessary claims and forms to minimize your out-of-pocket expense. We'll help you find the solutions you need to keep your new smile affordable.