Implant-Retained Dentures – Oakton, VA
Strong & Beautiful Smile Replacements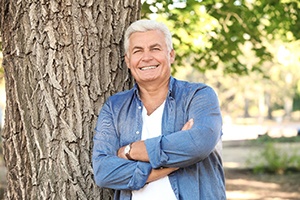 At Oakton Dentistry by Design, we want to give you the option to recreate their natural smile even if you've lost all or most of it. That's why we offer implant-retained dentures in Oakton. Read on to learn more about how we use dental implants and dentures to provide amazing results.
How Do Implant-Retained Dentures Work?
We combine dental implants with dentures to provide you with a full smile replacement that is unmatched in function, comfort, and beauty. Dental implants are small titanium posts that are surgically placed in the jaw to act as artificial tooth roots. Once fused to the jawbone, we will mount a custom-made denture on top. The result is a comprehensive replacement of an entire arch of teeth. The denture is securely fastened to the jaw, allowing it to look and feel natural.
All-on-4 Dentures
We also offer All-on-4 dentures, which is similar to implant-retained dentures with a few key differences. Primarily, with the All-on-4 procedure we can place 4 dental implants at once and restore them with your denture in the same day. This allows you to walk out of our office with a full smile on the same day of your surgery.
Am I A Candidate for Implant-Retained Dentures?
The best way to know if implant-retained dentures are right for you is to visit our office for a consultation. One of our experts will carefully examine the condition of your oral health as well as the strength of your jawbone. Patients must have enough bone volume for the placement of dental implants. However, bone grafting can be done to help more patients enjoy implant-retained dentures. After your consultation, we will create your personalized treatment plan and set up your first appointment!
The Implant-Retained Dentures Procedure
After your initial consultation, you will have your dental implant surgery. Small incisions are made in the gums before tiny holes are created in the jaw. Once your implants are place din the jaw, you will begin a healing process that will last at least 3 to 4 months. During this time, you'll wear a temporary denture to maintain your appearance. Once your implants have integrated into your jaw, you'll come back into our office, where we will take final impressions of your implants. These impressions allow us to make a denture that is personalized to your mouth for the most lifelike smile. After your denture is mounted, you can walk out of our office with a perfect set of teeth!
Benefits Of Combining Dentures & Dental Implants
You can enjoy a variety of advantages with implant-retained dentures, including:
Strength: Confidently chew through all your favorite foods. Stabilized by implants, your dentures aren't going anywhere.
Bone health: Dental implants are the only restoration that replaces your tooth roots, stimulating your jawbone to prevent it from deteriorating after tooth loss.
Confidence: Feel an automatic confidence boost without having to worry about your dentures sliding around when speaking or smiling.
Longevity: The dental implants themselves are designed to last a lifetime with proper care.
If you have any questions, please don't hesitate to contact our office today!