Porcelain Veneers – Oakton, VA
Correct Multiple Smile Flaws with Just One Treatment!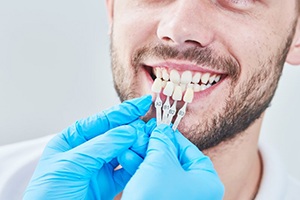 Everyone wants their teeth to look great, but when you have several imperfections in your smile, it's hard to know where to start. Should you tackle those stubborn stains, close the uneven gaps, or fill the chips? With porcelain veneers, our team at Oakton Dentistry by Design can address all of these concerns in one fell swoop. Dr. Giordano and Dr. Khalil are more than happy to provide this amazing cosmetic treatment to completely revamp your smile. Just give us a call to learn more!
Why Should I Get Porcelain Veneers?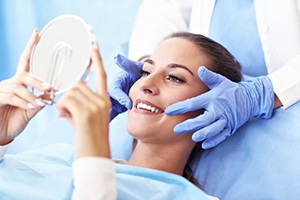 A veneer is a super-thin shell made of dental porcelain that covers the entire front surface of a tooth. This treatment can simultaneously correct a tooth's size, shape, color, and proportion. Some of the many benefits of porcelain veneers include:
Each veneer is custom-made to blend in with the adjacent teeth, so your results will look completely natural.
Because porcelain is less porous than tooth enamel, veneers are significantly more resistant to staining than your natural teeth.
With proper aftercare, veneers are durable enough to last 10-15 years.
All you have to do to make your veneers last is brush and floss them like you would your natural teeth. Of course, don't forget to see us twice a year for a checkup and cleaning, too!
Less enamel must be removed to place a veneer than a dental crown, making veneers a more conservative and less invasive treatment.
Am I a Good Candidate for Porcelain Veneers?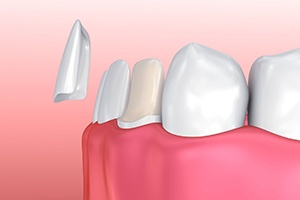 Veneers are a great option if you have multiple cosmetic flaws that you'd like to correct at the same time. For example, while our professional teeth whitening treatment is great for removing stains, it sometimes can't correct discoloration caused by age wearing down the enamel. Teeth that have become yellowed, gapped, cracked, or chipped over the years can look good as new after placing veneers.
Your oral health may also affect your eligibility for veneers. As long as you have generally healthy teeth and gums, brush and floss daily, and don't clench or grind your teeth, veneers may be the right choice for you.
The Process of Getting Porcelain Veneers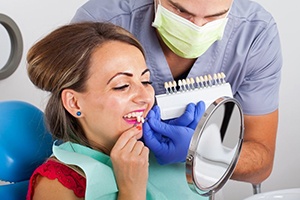 The first step in the treatment process is a consultation with your Oakton dentist. After discussing your smile goals and determining that veneers are the best way for you to achieve them, we can move forward.
First, we prepare your affected teeth by shaving off a layer of enamel that's about as thin as a contact lens. Then, we take impressions of your teeth to create molds, which are sent to our dental lab. While the lab is crafting your personalized veneers, we can place temporary veneers to not only protect your teeth in the meantime, but let you get an idea of how your smile will look. Two or three weeks later, you'll return to our office to replace your temporaries with your permanent veneers, instantly transforming your smile for the better.