Invisalign in Oakton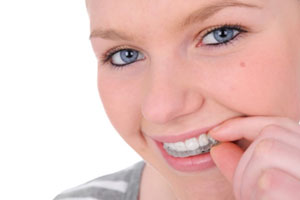 Do you feel insecure about your crooked, gapped, and misaligned teeth but do not want to deal with the appearance or restrictions of traditional metal braces? At Oakton Dentistry by Design, we understand your concerns. Now, you can improve your confidence and oral health with a more sophisticated approach. With Invisalign in Oakton, virtually invisible clear aligners are worn over your teeth to gradually move them into position. You will achieve the straight, healthy smile you have always wanted using the most preferred treatment available.
Get a Healthy, Confident Smile
Misalignment issues not only impact your self-esteem but also your oral health because the teeth are more difficult to clean, increasing your risk for tooth decay and gum disease. Now, you can improve your oral health and smile with confidence using an FDA-approved treatment.
Invisalign does not use metal wires and brackets to align your teeth. Instead, you wear custom-made clear plastic aligners to gradually move them into position. Not only does this make the treatment discreet, but you will enjoy added comfort and convenience. In as little as a year, you will have the straight smile you will always wanted.
Choose the Clear Choice
After an initial consultation to determine that you are a candidate for the treatment, 3D scans are taken to create a series of aligners. You will wear each one for about two weeks for 22 hours per day. They should only be taken out when eating, drinking, and during your oral hygiene routine. You can then switch to the next one in the series right from your own home. There is no need to come into the office for adjustments because no wires are used. However, you will still need a regular appointment every few weeks so we can monitor the movement of your teeth. This provides the perfect solution for those with busy schedules.
During your treatment, you will enjoy many added benefits that are not possible with traditional braces. You can still eat your favorite foods because the aligners are removable. In addition, caring for your teeth is easy because there are no wires and brackets to brush and floss around. Overall, they are more comfortable than metal braces because the aligners are smooth so you do not have to worry about irritation to the inside of the lips or cheeks.
Invisalign revolves the disadvantages of traditional braces to provide you with the sophisticated solution you need. You can smile confidently during your treatment because no one will know you are wearing them. In about a year, you will have a straight, healthy smile.
Get a Straight Smile Today
If you are ready to stop feeling insecure about your teeth, it is time to see if Invisalign is right for you. The aligners are effective for treating an array of bite and alignment issues; however, they are not right for everyone. We will perform the consultation necessary to create your customized treatment plan.
Contact Oakton Dentistry by Design today to schedule your appointment.