Emergency Dentistry – Oakton, VA
Compassionate Dental Care For Hurting Smiles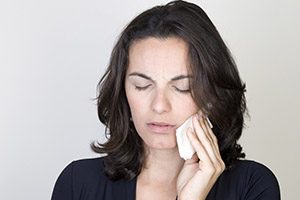 When it comes to dental emergencies, we know that patients' first experience is likely pain or panic not necessarily taking action. While most emergencies happen by accident and are unavoidable, having a plan prior to the emergency is one way to relieve stress and protect oral and overall health. At Oakton Dentistry by Design, we welcome patients to contact us right away in case of emergency. By taking this simple first step, our team can help you through any dental emergency. We are here whenever our patients need us. Simply call our main office phone number and follow the after hours instructions. We offer a wide range of appointment times including early morning hours to accommodate your schedule, and we can usually see emergencies on the same day you call us.
Common Dental Emergencies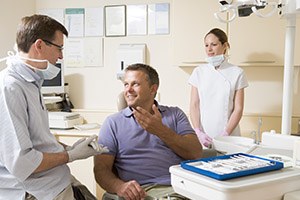 We will talk to you over the phone first, and one of our knowledgeable team members will ask a series of questions to better understand your unique situation. In most cases, we schedule an appointment right away, and we walk patients through first aid steps to keep them safe until they arrive at our office. We treat numerous dental emergencies, but some of the most frequent cases we see include:
Avulsed (knocked out), chipped, or broken teeth
Avulsed, chipped, or broken dental restorations
Severe toothache that may be indicative of root canal infection
Broken or damaged dentures
Soft tissue lacerations
Foreign objects stuck between teeth
Caring for Your Smile at home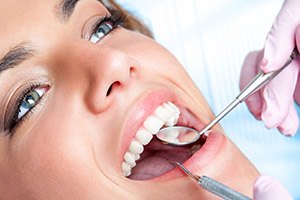 During your dental emergency, we'll be happy to walk you through first aid and pain management over the phone. Some basics you can keep in mind include:
Clean any damaged areas of the mouth or avulsed pieces of tooth with cool water, but do not scrub or use oral hygiene products unless directed to do so.
Place pressure with gauze or clean cloth to slow blood flow. You can also use cold compresses to reduce swelling and inflammation and stop bleeding.
Use floss to remove stuck objects, but do not use sharp objects if floss will not dislodge the item.
Take aspirin as directed to relieve pain, but do not place an aspirin directly onto a damaged tooth. This folk remedy may actually damage soft tissue.
Replace knocked out or broken teeth or dental restorations whenever possible. If you can't replace the teeth or restorations, store them in cool water or milk until your reach our office.
Preventing Dental Emergencies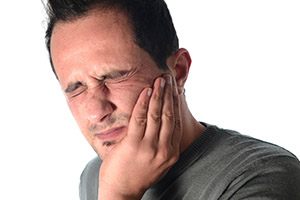 In most cases, dental emergencies are accidents that are not avoidable, but there are some changes to your daily routine that will decrease risk. First, maintain thorough daily hygiene by brushing teeth at least two minutes at a time at least twice a day and floss daily. Visit our team twice a year for professional dental checkups and teeth cleanings. You should also use mouthguards to protect your smile while participating in athletics or to create a barrier between teeth to prevent damage from teeth grinding and clenching. Avoid using your teeth as tools to open packages and crack nuts and don't chew ice or bite your fingernails as this may lead to accidental damage.
Dental Emergency FAQs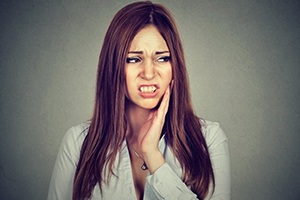 Dental emergencies rarely happen at a convenient time, so many people find themselves unprepared for them when they strike. Thankfully, having some important answers ahead of time can help you stay calm and act correctly if you ever find yourself in one of these scary situations. Below, you'll find some of the most common questions we receive about dental emergencies. If you or a loved one is experiencing a dental emergency, call Oakton Dentistry by Design, where we offer compassionate dental care for hurting smiles.
When Should I See an Emergency Dentist for a Toothache?
Your smile shouldn't cause you discomfort, so all dental pain should be brought to your Oakton dentist's attention. However, if your toothache is the result of a serious infection or other oral health issue, you may need emergency dental care. Call your emergency dentist if your toothache is accompanied by:
Darkening or discoloration of the painful tooth.
Intense pain that lasts for more than one or two days.
Swelling in the mouth, face, neck, or jaw.
Gum tissue that looks puffy, bleeds easily, or aches.
A small, pimple-like bump on the gums near the painful tooth.
Should I Still See My Emergency Dentist If My Tooth Stops Hurting?
You should see your emergency dentist right away for a severe toothache, even if it stops hurting. Unlike the rest of your body, your teeth can't heal themselves. Just because your painful tooth suddenly stops hurting doesn't mean the underlying issue is gone. In fact, a numb tooth could indicate that bacteria have damaged the nerve or roots of the afflicted tooth. If left untreated, the tooth could fall out and the infection could spread to the rest of your teeth.
Should I Call My Emergency Dentist If My Child Unexpectedly Knocks Out a Baby Tooth?
Losing baby teeth is a natural part of childhood. However, if your little one's primary tooth is suddenly knocked out from a fall or while playing, you should call your Oakton dentist right away. If the tooth was close to falling out on its own, then we may not have to do anything. However, if it was knocked out prematurely, we may recommend placing a space saver to keep the surrounding teeth from crowding into the empty space and trapping the permanent tooth underneath.
When Should I Go to the ER Instead of the Emergency Dentist?
In nearly every case, you'll save time, money, and discomfort by bringing your dental emergency to us instead of going to your local ER. However, there are a few situations that need to be stabilized at an emergency room before we can fix up your pearly whites, including:
Dislocated or broken jaw.
Bleeding that won't stop after 15 minutes.
Swelling in the mouth, jaw, or face that's making it difficult to breathe or swallow.
Even if you're not sure whether your situation counts as a dental emergency or not, give us a call right away if you're experiencing any uncomfortable or worrisome dental symptoms. We'll always to our best to provide same-day care for fast pain relief when you need it most!