Dentures – Oakton, VA
Replacing Missing Teeth with Lifelike Prosthetics
Are you missing a few of your teeth? If so, you aren't the only one. With many people struggling with tooth loss, our team understands the need for restoring a person's complete smile . That's why we're proud to offer personalized and natural-looking dentures in Oakton! These prosthetics are designed to blend right in with the rest of your mouth, and you'll be free to enjoy eating and talking like normal again. Keep reading to learn more or reach out to our office to schedule your consultation.
Who Is a Good Candidate for Dentures?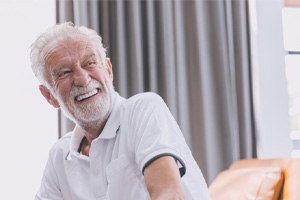 Those who are missing one, some, or all of their pearly whites may be candidates for dentures in Oakton. As long as your oral health is in good condition and your jawbone density is sufficient, you should be eligible for these prosthetics. You'll also need to be committed to taking care of the dentures every day to ensure they last as long as possible. If our team detects any underlying issues in your mouth, such as gum disease or infection, we'll need to fix the problem before moving forward with your treatment process.
Types of Dentures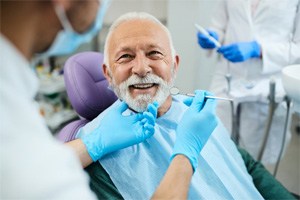 Dentures can come in many forms—each with its unique purposes. During your consultation, our team will assess your situation and determine which option would be ideal for renewing your smile. Our options typically include the following:
Partial Dentures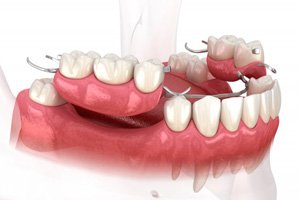 Patients who still have some or even most of their teeth may benefit from partial dentures. These prosthetics have a gum-colored base and metal clasps that are designed to loop around nearby teeth. This allows them to remain supported while completing your grin and improving your bite.
Full Dentures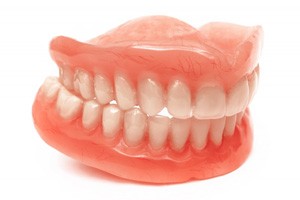 These prosthetics are reserved for those who are missing entire arches of teeth. Unlike partials, full dentures rely on the natural suction of the gumline to remain stable. In some cases, you may need help from denture adhesive to keep your new teeth in place.
Implant Dentures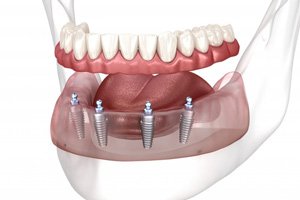 Instead of relying on your natural teeth and gums, we can embed dental implants into your jawbone for a more stable foundation for your new smile. These dentures will be fixed in position, so you won't have to worry about them unexpectedly moving around at inconvenient times. Implant dentures can also typically last several decades with regular maintenance and can help you avoid jawbone deterioration.
The Benefits of Dentures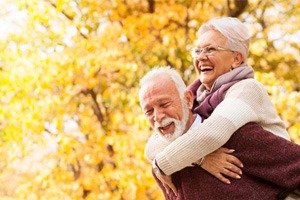 With lifelike and durable dentures, you'll be free to enjoy a wide range of advantages with your new prosthetics, including:
Improved chewing ability
Boost of self-esteem
Preserve a natural-looking smile
Maintain a youthful look
Easy oral hygiene
Affordable tooth-replacement method
Ability to last several decades to a lifetime (with implant dentures)