Teeth Whitening – Oakton, VA
Invest in a Whiter Smile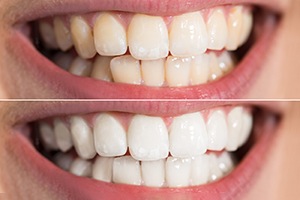 Teeth come in many shades and tones naturally. Not to mention, they change color over the years from aging, poor oral hygiene, smoking, and many other reasons. If you're embarrassed by brown or yellow teeth, you're not alone. You don't have to hide your smile any longer. Professional teeth whitening will revamp your pearly whites. You'll enjoy noticeable results that can last with the help of your cosmetic dentist at Oakton Dentistry by Design.
Who Is a Good Candidate for Teeth Whitening?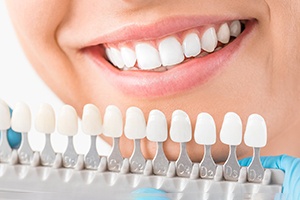 If you're not happy with the color of your teeth, a whitening system may be an option for you. Not all stains are the same, and some won't respond to conventional teeth whitening. As a result, you'll need a consultation with your cosmetic dentist to ensure it can help you reach your goals.
Your cosmetic dentist will examine your mouth to determine the source of your discoloration. Teeth whitening is recommended for surface and age-related stains. You must also have healthy teeth and gums to be a candidate. It's not uncommon to require a little prep work, like a dental cleaning, filling, or gum disease therapy.
How Does Teeth Whitening Work?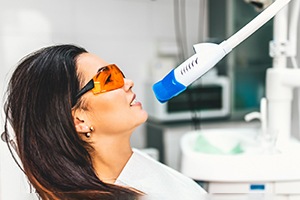 Teeth whitening differs from OTC products you might have tried. OTC kits don't contain professional-grade whitening agents, so they can't remove stubborn stains. Any improvement will be minimal and won't last very long. Whitening systems from a dentist are proven safe and effective using highly-concentrated ingredients to dissolve the most difficult stains. Your teeth can become up to 8 shades whiter using a system that meets your needs, which can include:
Take-Home Teeth Whitening
You can achieve in-office results and the convenience of an OTC product with a take-home kit from our office. Your cosmetic dentist will give you everything you need to whiten your teeth gradually. You'll use the kit nightly for 1-2 weeks to reverse stains.
In-Office Teeth Whitening
You can enjoy drastic results over your lunch break with an in-office treatment. A protective barrier is placed over your gums and lips before a whitening gel is applied to your teeth. A special dental light activates the whitening agents to dissolve discoloration.
Tips for Maintaining Your Brighter Smile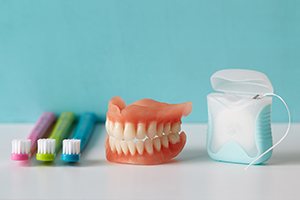 Your dazzling smile can stay bright and beautiful for many months or years, depending on your aftercare routine. You can get the most from your investment by:
Committing to Your Oral Hygiene: Brush your teeth at least twice daily using a soft-bristled toothbrush and fluoride toothpaste. Floss in between your teeth and around the gum line nightly.
Watch What You Eat and Drink: Limit your consumption of dark-colored foods and drinks, like coffee, berries, and tomatoes.
Live a Healthy Lifestyle: Moderate your sugar consumption. Don't smoke or use tobacco to avoid tar and nicotine stains.
Visit Your Dentist: Schedule a cleaning and checkup every 6 months. Your dentist can provide you with a touchup kit to maintain your results.
If you're ready to turn back the clock to reveal a bright smile, request an appointment through our website or call (703) 457-8850.