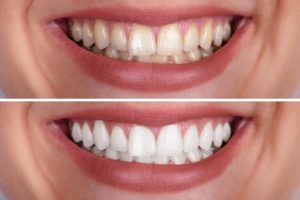 You only get one set of adult teeth in your lifetime, so you want to use the best quality products to take care of them. That includes products to get rids of the unsightly stains on your teeth. You could choose over the counter kits from the pharmacy, or you could seek professional treatment for faster results. But are they safe? Is teeth whitening bad for your teeth? Let's take a closer look and find out.
Why Do Teeth Need to Be Whitened?
Tooth discoloration can happen for many reasons:
Extrinsic: This is caused by foods, beverages, and habits that stain your pearly whites. Items like coffee, tea, berries, tomato sauce, and tobacco can all contribute to extrinsic staining.
Intrinsic: Intrinsic discoloration comes from inside the tooth. It may be the result of medication use, illness, genetics, infection, aging, or trauma to the tooth. Intrinsic staining typically requires professional-strength bleaching treatment to clear away.
Is Over the Counter Whitening Bad for Your Teeth?
Store-bought whitening treatments are pretty cheap and can be found at most drugstores. They can come in the form of trays you wear over your teeth, strips, or even toothpaste. While some of these are great at removing surface stains, they may also cause sensitivity or irritated gums, especially if you already have sensitive teeth.
What About Professional Whitening?
Generally, whitening solutions at your dentist's office will be much more potent than anything you can find at the store or online. It's considered much safer because your dentist can monitor and adjust the strength of the bleaching gel. You can choose in-office at at-home treatment.
With the in-office option, your dentist will safely apply the gel to your teeth, making sure none of it gets on your gums to irritate them. You will simply have to sit in the dental chair for an hour or so while the bleaching agent works its magic. After treatment is done, your smile will be several shades whiter, all in just one appointment.
If you would like more gradual results, you can opt for at-home whitening. First, your dentist will take impressions of your bite to create trays that fit your unique smile. Then you'll have to wear the trays with the whitening gel for a prescribed amount of time each day. You should be beautiful, long-lasting results in just a few days.
Ultimately, you're much better off with professional whitening treatment from your dentist. The results will be safer and last a lot longer, especially if you avoid foods and drinks that cause staining. If you're interested in having a brighter smile, ask your dentist about their teeth whitening options.
About the Practice
At Oakton Dentistry by Design, we take the time to devise personalized treatment plans for each and every patient who walks through the doors of our Oakton, VA office. Drs. Joseph Khalil and Pasquale Giordano are both talented and bring unique skills and experiences to the table. Our practice offers both in-office and take-home whitening treatments. If you want a smile that shines brighter, contact us here or at (703) 938-4300.