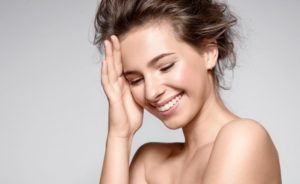 Without a doubt, the people you encounter will notice the condition of your teeth. Therefore, if you have stains or discoloration, it could place you at a severe disadvantage. This is especially so when it comes to career advancement. That's because, unfortunate as it may be, you're partially judged based on your appearance. Thankfully, professional teeth whitening provides a way to lift troublesome stains and to brighten your teeth by as much as 10 shades. After the treatment concludes, though, you don't want to squander your results. Read on to find out how to keep your teeth white!
How Teeth Whitening Works
Before exploring how to maintain your results, it's a good idea to learn how the teeth whitening process traditionally works. Most cosmetic dentists will provide patients with the choice of in-practice whitening or an at-home version. The following explains how each process works:
In-Practice Teeth Whitening – The in-practice teeth whitening method consists of up to three 15-minute treatment intervals. With each application of the high-quality bleaches, any stubborn stains or discoloration can be eradicated to leave you with a brand-new smile.
At-Home Tooth Whitening – For patients who prefer the convenience of applying the bleaching agents in private, there is at-home whitening, which consists of custom-designed application trays and professional strength whitening agents that deliver phenomenal results.
Protecting Your Results
Once you have your teeth whitened to the desired shade, you obviously don't want to ruin your new smile. To protect it, it's best to avoid darkly pigmented foods and beverages like soy sauce, tomato sauce, tea, coffee and wine. On the occasion that you choose to indulge in one of the aforementioned, it's critical that you clean your teeth before the particles have a chance to settle into your enamel.
The two most important oral hygiene practices to participate in are toothbrushing and flossing. It's also helpful to drink plenty of water, especially after a meal. That's because it does more than just hydrate the body; it also helps to cleanse the mouth and teeth of lingering debris.
Is Teeth Whitening Right for You?
To learn more about the teeth whitening process, reach out to your local cosmetic dentist to schedule a consultation. While you're there, your oral health will be assessed to make sure you're a good candidate for the procedure. This careful approach is another way of ensuring your results last longer.
The first step, again, is to take action today by scheduling a visit. The smile of your dreams is just around the corner!
About the Author
At Oakton Dentistry by Design, patients are fortunate to have two highly-skilled and compassionate dentists to choose from for their cosmetic dental needs: Dr. Pasquale J. Giordano and Dr. Joseph A. Khalil. With decades of experience between the two of them, patients are assured to receive only the best in care. Dr. Giordano and Dr. Khalil create bright and gorgeous smiles with teeth whitening at Oakton Dentistry by Design, and they can be reached for more information through their website.