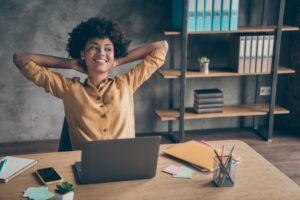 Healthy habits like regularly brushing and flossing your teeth are essential to great oral health. However, it takes more than a great dental routine to protect your pearly whites! You may be unconsciously damaging your smile every day with a few simple but destructive bad habits. Find out from your Oakton dentist which common, everyday behaviors are hurting your oral health and what you can do about them!
Brushing Your Teeth Too Hard
If you are an over-aggressive brusher, you may be doing more harm than good! Forceful brushing scratches away at your enamel, which can cause tooth sensitivity, gum recession, and even increase your risk of cavities. If you notice that your toothbrush bristles become flattened or frayed quickly, you may be brushing too hard. Slow down and practice gently massaging your teeth with a soft bristled toothbrush.
Chewing on Hard Objects
Do you chew on things when you're stressed, frustrated, or bored? Gnawing on hard objects like pen caps, ice, or fingernails is a common but dangerous habit that quickly wears down your teeth. This leaves them weakened and susceptible to damage and decay. To satiate your habit without compromising your oral health, try chewing on a piece of sugarless gum instead.
Using Your Teeth as a Tool
We've all been particularly excited about unwrapping a gift, tearing open a container, or getting into a bag of our favorite chips. While it may seem convenient to use your teeth to rip and tear these items, it could cost you more time in the dentist's chair later with a broken tooth! Protect your teeth from cracking and chipping by always using the appropriate tool.
Snacking Throughout the Day
When it comes to snacking, how often is just as important as how much. If you graze on chips, crackers, cookies, and other treats throughout the day, you drastically increase your chances of developing cavities. Try to limit eating to a few times a day and choose healthy alternatives like almonds, cheese, turkey, and vegetables.
Skipping Your Dental Checkups
Even if your teeth look and feel fine, you should still be getting a regular dental checkup every six months. Your dentist is specially trained to identify early warning signs of issues you may not see or feel until permanent damage has been caused. Thankfully, almost all oral health issues like tooth decay, gum disease, and oral infections can be reversed if caught early enough. However, the main goal of a dental checkup is to prevent those problems from developing in the first place! Seeing your dentist twice a year is one of the best habits for keeping your pearly whites healthy, intact, and beautiful.
About the Practice
Our goal at Oakton Dentistry by Design in Oakton, VA is to keep your smile happy, healthy, and complete for a lifetime. That's why our highly trained team of dentists recommends a dental checkup twice a year. Not only will routine cleanings from Dr. Pasquale Giordano and Dr. Joseph Khalil keep your smile feeling fresh, but you can rest assured knowing that any oral health issues will be detected and treated as early as possible. If you'd like to learn more about dental checkups, feel free to contact them via their website or at (703) 938-4300.