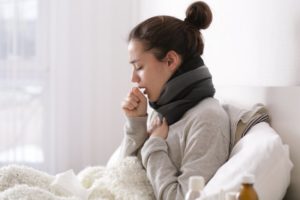 COVID-19 is very contagious and can be life-threatening, so many people are looking out for its key symptoms. Unfortunately, several warning signs of the coronavirus could also indicate the presence of a serious dental infection. Both situations require urgent medical attention but need very different treatments. Your Oakton emergency dentist explains what symptoms to look out for to discern whether you have an infected tooth or COVID-19.
Tell-Tale Signs of a Tooth Infection
Since our mouths are naturally brimming with bacteria, it's essential that we brush and floss regularly. If this bacterium builds up, it can attack your teeth and gums and cause a variety of painful issues, including a dental abscess. This is when pus and bacteria accumulate around the tooth's roots and damage it, which can result in tooth sensitivity and pain.
If a tooth infection in Oakton is left untreated, it can escape into the bloodstream and cause systemic health issues. Symptoms of a serious dental infection that has spread throughout the body include:
Fever and chills
Fatigue and dizziness
Swelling in the mouth, face, or jaw
Warning Symptoms of COVID-19
COVID-19 affects different people in different ways. However, the Centers for Disease Control and Prevention report that the most common symptoms include:
Fever and chills
Cough or shortness of breath
Sore throat and muscle pain
While the coronavirus shares one of its three most easily identifiable symptoms (fever/ chills) with a tooth infection, there are many key differences. Swelling and pain in your mouth are tell-tale signs of a dental abscess, but COVID-19 typically causes more symptoms in the chest and throat.
When to Seek Emergency Help
Thankfully, not all tooth infections or cases of COVID-19 are life-threatening. All toothaches should be treated by your dentist, so call them right away to determine when you should come for an appointment. If they don't recommend that you to come in for emergency care, you can treat it at home until quarantine orders are lifted with saltwater rinses, cold compresses, and over-the-counter pain relievers.
Not all coronavirus cases require immediate medical attention. In fact, most can typically manage their symptoms at home. If you believe you have the symptoms of COVID-19 or have been exposed to an infected person, contact your healthcare provider, care for your symptoms at home, and stay in self-quarantine until you have been symptom-free for three days straight. Call your local ER immediately if you are having trouble breathing, experiencing persistent pain or pressure in your chest, or can't stay awake.
It's more important than ever that we all practice regular handwashing and excellent oral hygiene to keep ourselves happy, healthy, and safe throughout the COVID-19 pandemic.
About the Practice
At Oakton Dentistry by Design, the health of our patients, staff, and the community of Oakton, VA has always been our top priority. To do our part to flatten the COVID-19 curve and keep our patients healthy, we have made the difficult decision to temporarily close our office. We are keeping our practice exceptionally clean and germ-free in order to continue to safely provide emergency dentistry for those who need it. If you are concerned that you may have a tooth infection, don't hesitate to contact us via our website or at (703) 938-4300.