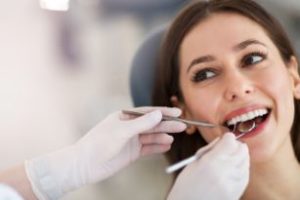 There you are, enjoying a dinner date with your significant other when it happens again. You've got food stuck in that one certain spot and, unfortunately, the only way to discreetly remove it is to head to the bathroom, which is not only annoying, but embarrassing as well! So what causes food to get stuck in the first place, and can a dentist in Oakton help? Keep reading to learn about 4 common reasons and which treatments can make a big difference.
1. Gum Recession
Gum recession occurs when the gums "pull back" and expose the roots of the teeth. It's fairly common and can be caused by brushing too hard, clenching and grinding, genetics and more.
In addition to causing sensitivity, areas of gum recession often collect food as well. This occurs because the surface of the roots is rougher than the crowns, or visible part of the teeth. The roots can also be easily worn away with overzealous brushing, which leads to a concave shape near the gumline. These factors mean that food gets trapped at the gumline far easier than it did before.
Depending on your needs, a dentist may recommend putting tooth-colored filling material over the root to protect it and create a smooth surface. Or, if you have more severe recession, they may recommend a procedure to restore the gumline to its initial position.
2. Dental Bridges
A dental bridge is a "floating" prosthetic tooth that's connected to two dental crowns on either side. Since there's a space underneath the prosthetic tooth, it's easy for food to get trapped under or around a bridge.
It's important to get regular checkups to make sure your dental bridge is fitting well. To dislodge food debris, it's helpful to carry interdental brushes and/or floss threaders with you. You can also simply swish water around several times during a meal.
3. Dentures
It's common to get food stuck when you're first getting used to dentures. After an initial adjustment period, you'll re-learn how to chew and swallow to minimize food debris collecting under or around your appliance.
Also, traditional dentures don't usually fit as well over time, so there may be too much space between the base of the denture and your gums. A dentist can do a reline or other type of adjustment to resolve the issue and keep problems to a minimum.
4. Old or Ill-Fitting Dental Crowns
Dental crowns often last 10-20 years or more with good oral hygiene habits and regular checkups. When functioning properly, food shouldn't accumulate around them. However, sometimes a cavity starts underneath a crown, and it no longer has a tight "seal" over the tooth. In other cases, a dental crown wasn't designed correctly and doesn't touch the adjacent teeth the way it should. Without a contact point, there's an open space that can easily collect food.
If you think your dental crown is old or doesn't fit well, schedule a checkup with a dentist. After diagnosing the problem, they'll recommend the best option for addressing the issue, which may involve a new crown or dental work on one of the teeth on either side.
By seeing a dentist for an evaluation, you'll not only maintain your oral health – you'll also avoid getting food lodged in your teeth on your next dinner date!
About the Author
Dr. Pasquale Giordano has over 15 years of experience as a family dentist and graduated from the University of Maryland School of Dentistry. With a focus on comprehensive care, he offers a wide variety of services to help patients of all ages eat, speak and smile with ease. If you frequently get food stuck in your teeth or have any questions, he can be reached via his website.