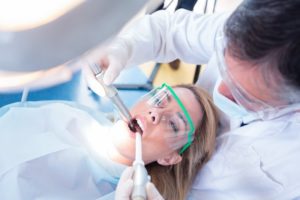 Healthcare workers such as dentists have always risked their lives every day to deliver their essential services. Recently, though, your dentist in Oakton has to deal with the new and ever-present threat of COVID-19. This pandemic puts your dental team at risk since they are exposed to germs each and every day. One of these risks is known as dental aerosols. What exactly are they, though? And why are they such a huge problem? Keep reading to find out.
What Are Dental Aerosols?
Dental aerosols are microscopic particles that are released into the air when certain dental instruments are used to clean or treat your teeth. These droplets usually contain trace amounts of bodily fluids like blood and saliva as well as dental plaque. However, they can also contain any of the germs that are present in your mouth, which may or may not include the pathogens that cause COVID-19.
Why Are Dental Aerosols Dangerous?
Research has shown a connection between high levels of dental aerosols and an increased risk for several other types of illnesses, such as pneumonia, the common cold, and of course, the novel coronavirus.
When dental aerosol particles are displaced into the air, they can float in the air for up to several hours before settling on the ground, the dental chair, the dentist's protective gear, or even their instruments. If these tools or the chair is not properly sanitized after every patient, these germs could infect subsequent patients or members of the dental team.
How Is Your Dentist Combating the Problem of Aerosols?
On the bright side, solving this problem is fairly straightforward. One way to drastically reduce the number of germs in your mouth is by having you rinse with an antimicrobial solution, like mouthwash or hydrogen peroxide and water, before your appointment properly begins. Rest assured that all of your dentist's instruments are thoroughly disinfected between patients. Furthermore, your dentist may implement extra-strength air filters in their operatories to clean out the air.
All of these practices are massively helpful in ridding your dental office of harmful aerosol particles and avoiding infecting other patients as well as your dentist and their staff members. For more information on how your dentist in Oakton is keeping you safe by following dental safety protocol, just give them a call.
About the Author
Dr. Pasquale Giordano is a 2004 graduate of the University of Maryland's dental school. He is a member of the American Dental Association, the Academy of General Dentistry, and the Northern Virginia Dental Society. He is certified in many advanced treatments such as Invisalign and dental implant placement. His practice takes several precautionary measures to keep patients safe from COVID-19. To learn more, you can visit Dr. Giordano's website or call his office at (703) 938-4300.