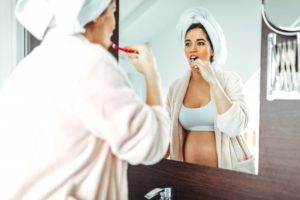 Feeling your little one flutter in your belly is pure magic. The little reminders of life inside you have you smiling from ear to ear; when you're not running to the sink that is. While morning sickness is a natural part of the process, it is one element of pregnancy that can wreak havoc on your teeth. Therefore, it is important to prioritize prevention to keep your teeth and gums in pristine condition. Your dentist in Oakton shares how to correctly maintain your oral health during pregnancy.
Prioritize a Proper Dental Hygiene Routine
During pregnancy, your entire body changes. Between swollen feet and the nagging feeling you'll never find a comfortable sleeping position again, a proper dental hygiene routine is often the first thing to go on early mornings and late nights. However, stomach acid from morning sickness and an increase in hormones, like progesterone, can put your teeth at risk of tooth decay and cavities. Therefore, it is important that you:
Brush your teeth for two minutes twice a day.
Floss daily to remove food particles and plaque from hard-to-reach places.
Never skip your tongue in the cleaning process.
Use a fluoridated, alcohol-free mouthwash to kill bacteria that cause bad breath.
Make Sure to Visit Your Dentist Throughout Your Pregnancy
In comparison to your stomach growing exponentially, fluctuations in your oral health may seem insignificant. However, even small changes to your teeth and gums can indicate a more serious issue. For example, swollen or irritated gums can signify gingivitis or gum disease. Also, significant changes to your hormones can result in loose teeth. Therefore, it is of the utmost importance that you keep in contact with your dentist throughout your pregnancy.
4 Ways to Protect Your Teeth During Pregnancy
Between nausea, heightened hormones, and changes to your body, it can seem like a proper oral care routine is trivial. However, your oral care affects both your smile and your baby, so it is important to make it a priority. Therefore, make sure to protect your teeth during pregnancy by:
Rinsing your mouth after experiencing morning sickness.
Finding a toothpaste brand that doesn't cause an adverse reaction.
Making sure to clean the hard to reach areas of your mouth as well, like the molars.
Brushing your teeth after snacking, which will reduce your chance of getting cavities.
Pregnancy is an incredible experience that many families dream of experiencing. To ensure that it is a pleasant journey, make sure to prioritize your oral health for both you and your little one. That way, you can have a bright smile that matches your beautiful glow!
About the Practice
At Oakton Dentistry by Design, their state-of-the-art dental practice and world-class care are just two of the ways they provide exemplary service to their patients in Oakton. Led by Dr. Joseph A. Khalil and Dr. Pasquale J. Giordano, each member of the team uses their extensive training, education, and experience to provide comprehensive, personalized treatment options. If you would like to ensure your smile is protected during your pregnancy, visit their website or give them a call at 703-938-4300 before typing in "dentist near me" into Google.