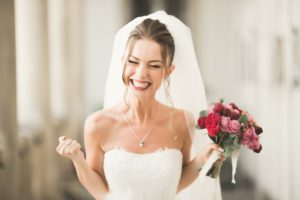 You deserve to look and feel your best at your wedding. After all, you're about to be the center of attention for a full day and pose for pictures you'll be keeping forever! Whether you're planning on hitting the gym to lose a few pounds or implementing a new skin care routine, don't forget to take a look at your smile! You'll be showing off your pearly whites nearly continuously on your big day, so it's important that you love the way they look. One of the most popular ways to transform imperfect teeth is with porcelain veneers! Read on to learn more about this cosmetic dental service and discover if it can give you the smile you've always wanted on the day you've been dreaming of.
What Are Porcelain Veneers?
Did you know that many celebrities such as Morgan Freeman, Miley Cyrus, and Tom Cruise owe their award-winning smiles to porcelain veneers? These custom-made shells of beautiful dental porcelain fit perfectly over the front surface of a tooth. This allows you to completely redesign the size, shape, color, and proportion of one or more teeth precisely to your liking.
What Can Porcelain Veneers Correct?
Porcelain veneers can cover a single imperfect tooth or address numerous teeth with a variety of flaws all at once. They're often used to correct problems like:
Chipped or cracked teeth.
Stubborn enamel stains or discoloration.
Teeth that are slightly misshapen.
Small gaps or spaces between teeth.
How Expensive Are Veneers? Are They Worth It?
When compared to other cosmetic services, porcelain veneers are relatively expensive. During your initial consultation, your Oakton dentist will be able to give you a more personalized estimate depending on your unique needs. While porcelain veneers may have a higher price tag, they offer many advantages over other cosmetic dental services. They can correct issues that can't be addressed with treatments like direct bonding or teeth whitening, but are less invasive than a custom dental crown. In the end, you can't put a price on having a smile you can't wait to show off on your wedding day!
Who Should Get Porcelain Veneers Before Their Wedding?
If you're interested in getting porcelain veneers before your wedding, you'll need to schedule a consultation to ensure this treatment is right for you. You may be a good candidate if:
You feel self-conscious about the appearance of your smile.
Your wedding is at least two or three weeks away (preferably a few months).
You're in good oral health and don't have any tooth decay or gum disease.
You can fit the cost of your treatment into your wedding budget.
You don't grind your teeth or chew on hard objects, like pen caps, ice, or your fingernails.
Porcelain veneers can give you a flawless smile on your wedding day that lasts 10 to 20 years afterward, or even longer if you care for them properly! Talk to your Oakton dentist today to discover the best way to get the smile you've always wanted for your special day.
About the Practice
At Oakton Dentistry by Design, Dr. Pasquale J. Giordano and Dr. Joseph A. Khalil are proud to serve smiles of all ages in Oakton, VA and the surrounding communities. Their combined years of training and experience allow them to offer a wide range of services that help their patients achieve the smiles of their dreams. They'd be happy to help you pick the perfect cosmetic treatment to help your smile shine on your big day! They can be contacted via their website or at (703) 938-4300.