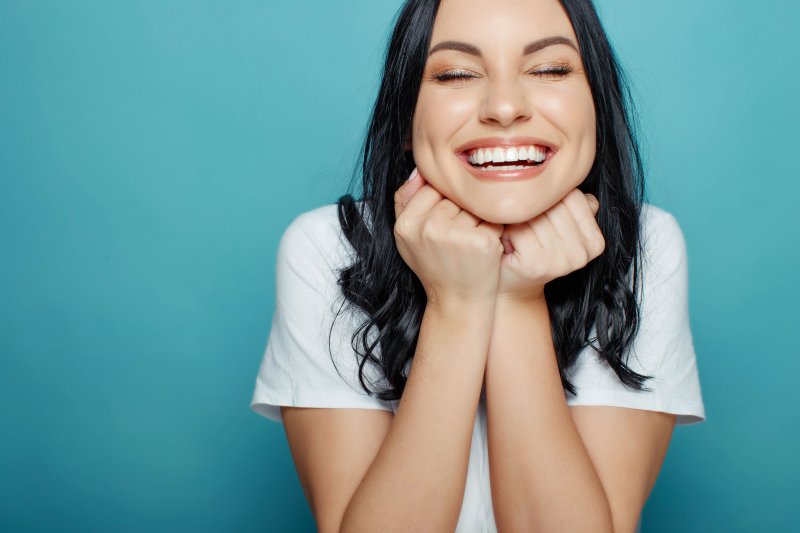 As we're entering the holiday season, many of us have probably already thought about what we want our New Year's resolution to be. For some it may be going to the gym more often or eating healthier, and for others it may be taking some time to practice a new skill. But what better way to start 2020 than to enhance your smile and set yourself up to feel confident! Your Oakton dentist shares some of the benefits of cosmetic dental treatments and which ones are available to help patients want to show off their smile!
What Are the Benefits of Cosmetic Dentistry?
Boosts Your Confidence: Enhancing your smile improves the way you feel about your appearance. When you feel like you look great, you will gain more confidence that will show in other areas of your life. This is an important trait when working your way up in your career, getting back on the dating scene, or socializing with friends and colleagues.
Great First Impressions: A lot of the time, your smile is the first thing that people see when you walk into the room. If you have teeth that are balanced, uniform, and white, this will be noticed. This can help you make a great first impression when it comes to job interviews, meetings, presentations, and meeting new people.
Improved Oral Health: While some cosmetic treatments focus solely on your appearance, others also have a positive impact on your oral health as well.
Personalized: No cosmetic treatment is one-size-fits-all. You will be able to work with your dentist so you can have your desired outcome.
What Cosmetic Treatments Are Out There?
Porcelain Veneers
This is one of the most popular cosmetic dentistry options out there. These wafer-thin shells of porcelain correct imperfections. They can solve cosmetic issues like discoloration, chipped teeth, uneven and irregularly shaped teeth, slightly misaligned teeth, and gaps. It can be completed in just two visits.
Teeth Whitening
If you have tried over the counter teeth whitening kits, you probably know that they aren't usually very effective. However, by having your teeth whitened by your dentist, you can have dramatic results in a short period of time. You have two options:
In-Practice Whitening: Your dentist protects the soft tissue in the mouth and applies a coat of a whitening gel to your teeth. They check results every fifteen minutes and apply as necessary. You return home with a smile up to 10 shades whiter in just an hour.
At-Home Whitening: Your dental team provides you with an at-home whitening kit that contains a professional-grade whitening gel and custom application trays to ensure you get predictable results up to 10 shades brighter in just two weeks.
Invisalign
This treatment uses a series of clear aligners to slowly move your teeth into a permanent, aligned position. Invisalign allows patients to have the beautiful straight teeth they've always wanted without having to deal with a mouth full of metal brackets and wires.
If you're looking for a change in 2021, cosmetic dentistry could be the answer. By talking to your dentist about your smile goals, you can begin working towards your dream smile!
About the Author
Dr. Joseph A. Khalil earned his DDS from the Medical College of Virginia School of Dentistry before completing his prosthodontic residency at the University of Iowa College of Dentistry. He provides for all phases of cosmetic and restorative dentistry, including dental implants. For more information on cosmetic dental options or to schedule an appointment, visit his website or call (703) 938-4300.