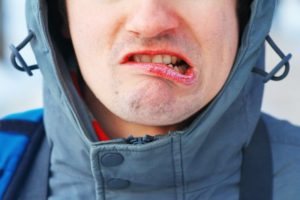 While many of us are looking forward to the holiday season, it can be a tough time of year on your health. As the colder weather sets in, you're probably taking steps to protect yourself from dry skin and the common cold. However, don't forget to take extra precautions for your smile as well! The cooler seasons pose a variety of problems for your oral health. Here are the five most common winter mouth issues and some helpful tips from your Oakton dentist on how to combat them.
1.) Chapped Lips
Nearly anyone who's spent time outside during winter can tell you chapped lips are a common problem. Whether you're skiing, snowboarding, or walking across a parking lot on a cold day, exposure to wind, cold, and sun is a recipe for dry lips. To protect the delicate skin on your lips, wear a daily lip balm with at least SPF 15, and apply it often. Stay hydrated to keep your skin moisturized or help your chapped lips heal faster.
2.) Canker Sores
If you're eating more spicy treats to stay warm in the cooler weather, you may find yourself with canker sores. Mayo clinic reports that acidic foods and beverages like spicy pasta sauce, apple cider, and other holiday favorites can cause these irritations. Avoiding or limiting acidic and spicy foods will help prevent canker sores. If you're already suffering from them, try rinsing with warm salt water or specialized mouthwashes for faster healing and pain relief.
3.) Cold Sores
Cold sores are exacerbated by winter weather, and many experts believe that new germs or bacteria on your hands that are often transferred to your face play a key role as well. Make sure you're keeping your hands clean and protecting your lips with SPF 15 lip balm or higher. Stress can also contribute to cold sore breakouts, so take time to rest, relax, and get enough sleep every night as well.
4.) Tooth Sensitivity
We've all experienced tooth sensitivity at one time or another. However, during the winter months, this uncomfortable feeling may seem much more present. This can be due to a variety of reasons, one of which primarily being cold temperatures, which is notorious for leaving teeth feeling sore. Make sure you're using fluoridated dental products to keep your enamel strong and consider using a desensitizing toothpaste to help combat tooth sensitivity.
5.) Dry Mouth
Breathing in cold air can cause nasal congestion, which in turn leads to breathing through the mouth. Winter is also cold and flu season, which can cause nasal congestion as well. That's why so many people suffer from dry mouth in the wintertime. Not only is this uncomfortable, but it can dramatically increase your risk of cavities. To combat it, drink lots of water and avoid caffeinated drinks. You can also stimulate saliva production by chewing sugarless gum.
Don't let the cooler climate take a bite out of your oral health! Use these simple tips to keep your smile healthy all season long.
About the Practice
Oakton Dentistry By Design is dedicated to providing high-quality, caring dentistry to smiles of all ages in Oakton and the surrounding communities. They place a high value on learning, which is why they regularly complete continuing education in advanced topics to provide the latest, most comfortable treatments. They're also passionate about patient education and are committed to helping their patients learn all about their own oral health and how to best care for it at home. To learn more tips for common winter mouth problems, they can be contacted via their website or at (703) 938-4300.