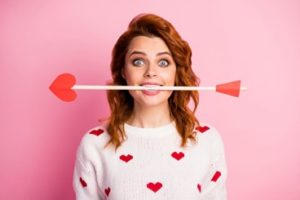 It can be tough to know what to give to someone you love, especially with the pressure of Valentine's Day. The hope is for them to show a genuine smile when they open their gift, so why not give them a gift that will help improve their dental health? Read on for 4 Valentine's Day dental gifts that just might work.
Dental Kit for Travel
If you're shopping for someone who travels often for work, it can be difficult to decide what to give them. Creating a super stylish travel-sized dental kit is a great idea. For someone who loves a modern look, a sleek, chic toiletry bag is ideal. For someone who loves old Hollywood, a vintage travel case could earn an honest jaw drop. Whichever item you select, fill it with a fun electronic toothbrush, a bag or container of disposable flossers and some travel-sized toothpaste and mouthwash.
Whiter Teeth
A brighter smile can build confidence and encourage individuals to smile more. Over-the-counter whitening products and kits are easy to find, but an in-office teeth whitening session with your dentist are a much better choice. Why? Store-bought products cannot offer the results that your dentist can. You can use these products over and over, but there is not guarantee of results. In-practice sessions are guaranteed to make teeth up to 10 shades whiter in just one hour!
Motorized Toothbrush
Studies show that both manual and electric toothbrushes are effective at removing plaque and bacteria from your teeth. But they also show that motorized toothbrushes are the most efficient of the two. They typically come with a built-in timer to help the user brush for the recommended 2 minutes. If your valentine struggles with an issue like rheumatoid arthritis, an electric toothbrush is an excellent gift.
Handheld Water Flosser
This handheld device acts like a dental pick by pushing pulses of water between the teeth. Water flossers come in a variety of styles and colors, so they can match any personality. It is also a great gift idea for anyone who has to deal with issues like arthritis, has braces or wears a dental bridge.
These dental gifts will help your favorite person have a healthier mouth and possibly build their confidence. Brighten the smile of the one you love this Valentine's Day with thoughtful dental care items!
About the Practice
At Oakton Dentistry by Design, Drs. Pasquale Giordano and Joseph Khalil offer patients personalized dental care and a state-of-the-art dental experience. Dr. Giordano earned his Doctor of Dental Surgery from the University of Maryland in 2004. Dr. Khalil achieved his DDS from the Medical College of Virginia School of Dentistry. Their combined knowledge and years of experience allow them to offer a wide range of treatment options to fit any patient's needs. If you're ready to give your loved one a healthier smile, visit the website or contact the office at (703) 938-4300 for more information.