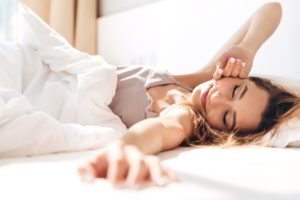 If you have sleep apnea, you know a good night's rest can be hard to come by, especially during the summer. Despite your CPAP or oral appliance, warmer weather and longer days can make it more challenging to get the quality of sleep you need. You don't have to toss and turn all summer. Your sleep dentist has 5 simple tips to get the rest you need to feel your best.
1. Wake Up Earlier
Life tends to slow down during the summer. It is easy to turn into a night owl or sleep longer than usual. However, earlier sunrises and later sunsets can lead to sleep difficulties if you deviate from your usual routine. It is best to wake up early, which will make you more alert during the day while drifting off to sleep more quickly at night. Morning sunlight helps your brain shift to nighttime mode sooner.
2. Dim the Lights
Depending on where you live, there may only be a few hours of darkness at night. You can prevent the longer days from disrupting your internal clock by dimming the lights 1 to 2 hours before going to bed. It's also best to shut off any devices. If you can't skip your favorite evening show, make sure any screens are several feet away from your eyes.
3. Follow a Routine
Although the kids may be out of school or you are on vacation, it is tempting to stay up later and sleep in longer. However, an irregular schedule can disrupt your sleep patterns. Adults should receive 7 to 9 hours of sleep every night. You can promote adequate rest by waking up and going to bed at the same time every day, including on the weekends.
4. Watch What You Eat and Drink
The foods and drinks you consume during the day can affect your sleep. Caffeine can give you a boost of energy, but it can make you jittery and unable to drift off to sleep. Alcohol can also influence your sleep patterns and worsen underlying health issues, like obstructive sleep apnea. It is also best to skip any late meals, especially those containing sugar.
5. Set the Environment
A comfortable environment can make it easier to fall asleep. If the heat and humidity are keeping you awake, lower the temperature of your air conditioner to keep you comfortable. If you don't have AC, fans will move air through your room to keep you cool. Closing your blinds during the afternoon can prevent your room from heating up too much.
Don't forget to commit to your sleep apnea treatment to ensure you feel your best while soaking up the sunshine.
About Dr. Joseph A. Khalil
Dr. Khalil earned his dental degree from the Medical College of Virginia School of Dentistry and has completed extensive continuing education in many specialties, like prosthodontics and sleep apnea therapy. If you are ready to breathe better and sleep peacefully, contact our office today to request your consultation for sleep apnea treatment.