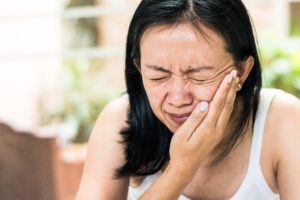 If you're among the 92% of adults who have had a cavity in a permanent tooth, it was probably treated with a filling. Whether metal or composite, fillings are designed to serve as a long-term solution; however, they don't last forever. Eating a chewy piece of candy or new decay can lead to a lost dental filling. Not to mention, it's normal for it to lose its bond with your tooth over time. No matter the reason, don't panic. Here's what you should do until you see your emergency dentist. 
Is a Lost Filling a Dental Emergency?
You're going to need to see a dentist sooner rather than later, even if you aren't having any pain. Your tooth will be vulnerable to bacteria, infections, and breaks or fractures if it isn't repaired quickly. Instead of needing a replacement filling, you could end up losing your tooth. It's best to contact your emergency dentist immediately for an appointment.
Handling a Lost Filling
After you've called your dentist, follow a few simple tips to safeguard your tooth and manage your pain until your appointment:
Save Your Filling
If the filling is mostly in one piece, your dentist may be able to reuse it. Place it in a hard container with a lid to bring with you to your appointment.
Rinse Your Mouth
Gargle with salt water to remove any food or debris. Rinsing your mouth with ½ teaspoon of salt in a cup of water will kill bacteria while reducing any pain or inflammation.
Manage Any Pain
Take an OTC pain reliever to manage your discomfort. Apply a cold compress to the outside of your mouth to numb the area temporarily. It's best to avoid hard, hot, cold, or acidic foods or drinks to prevent any sensitivity.
Keep Your Mouth Clean
Follow your regular oral hygiene routine. Commit to brushing your teeth at least twice daily and flossing every night. Use an antimicrobial mouthwash to kill any bacteria left behind by your toothbrush and floss.
Eat Carefully
Eat softer foods and chew on the opposite side of your mouth to avoid damaging your tooth.
Use a Temporary Solution
Never attempt to glue or cement your filling back in place. Leave the mending for professionals, but you can use dental wax or temporary filling material to protect the exposed tooth. Don't rely on a temporary fix as a long-term solution.
No one has time for an unplanned trip to the dentist, but don't delay getting the care you need. Your emergency dentist will address any pain and examine your mouth to create a personalized plan to replace your filling, so you can get back to your day.
About Dr. Joseph A. Khalil
Dr. Khalil earned his dental degree from the Medical College of Virginia School of Dentistry and has completed additional education in prosthodontics. He provides all phases of cosmetic and restorative services to treat the most complex oral health issues. If you need an emergency dentist, contact our office today.